I've written this post many times in my head, but a little 10-week-old has kept me pretty busy lately. I believe the past two months may have been my longest absence since I started this blog. Although he takes up most of my time and energy, I'm happy to report that Walker is doing very well. We've all learned a lot over the past month and a half… more than any amount of classes, reading or advice could prepare us for (and you better believe I did my fair share).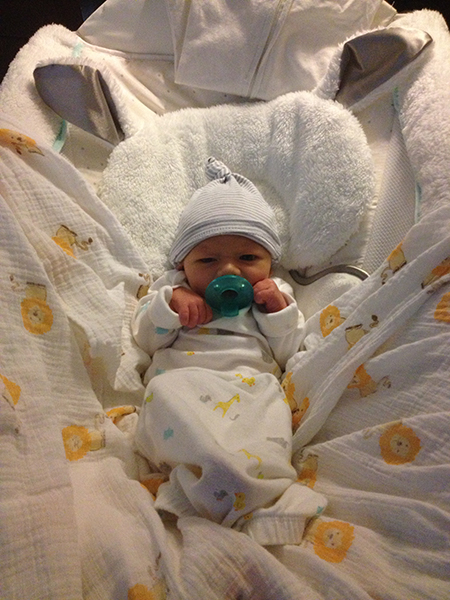 One of the things I researched most during my pregnancy was our registry items. My greatest resource turned out to be Lucie's List, where you can download a comprehensive list of all the stuff you "need." Every baby/family is different, so there is definitely no one-size-fits-all for baby items. However, there are a few things that I would recommend to any new parent (or anyone who knows a new parent) based on our newborn experience:
Fisher Price Rock 'n Play Sleeper
We have this one (thanks so some sweet friends) and have used it from our first night at home. My mom put him in it after we couldn't get him to sleep in his bassinet… it turns out he just didn't want to be flat on his back! We love it so much that we have two (upstairs and downstairs) and he still sleeps in it every night. The "little lamb" version is so soft, I'd actually like to curl up in it sometimes.
I had heard great things about these muslin blankets before, but they are perfect for a summer baby. We have this adorable zoo animal set from Target and another set from Babies R Us (the Target version is the exact same quality, FYI). They are on constant rotation at our house and have been washed a lot already. Great quality and really cute patterns. We also love their burpy bibs.
My brother gave us this carrier and it has been a life (and back) saver on my walks with Rigby. Carrying Walker in this is easier than pulling out the stroller and leaves me hands-free for the dog leash. I don't have experience with any other carrier, but this one is very padded and ergonomic (hence the name). There is a zipper pocket for my phone and keys, and it even has a little hood to shield him from the sun! We did have to buy the newborn insert to use until Walker is 15 pounds.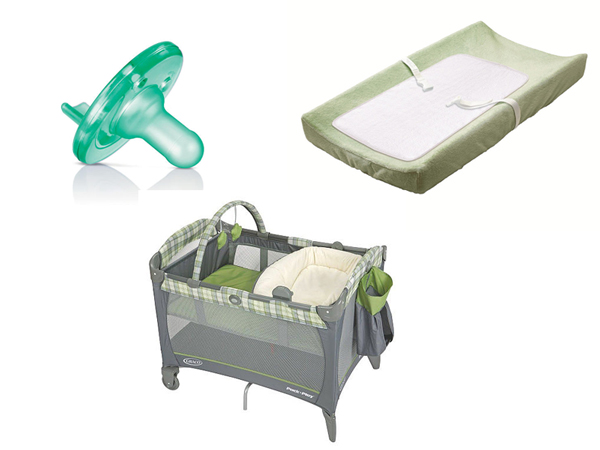 This one isn't really a major item for the registry, but I am glad we already had some extras on hand from baby shower gifts. They gave us one of these pacifiers at the hospital and it has been the only type that Walker will take. We keep them in every room of the house, so that we're never caught without one.
Babies R Us Changing Pad Liners
These genius little liners are terry cloth on top and waterproof underneath. When the baby inevitably gets the liner dirty, you don't have to change the entire pad cover! We also use one in our playard, which leads me to my next must-have…
I'm sure that most basic playards are created equal, but the "Newborn Napper and Changer" feature is what makes this one so great. Our pattern is no longer available (I got the most neutral one I could find so that it blends into our living room), but otherwise looks just like this one. The napper/changer is sized to cradle an infant and is the perfect spot for them to hang out. We don't even switch ours between the napping and changing sides, thanks to the aforementioned pad liner. I like that the other half of the bassinet part is empty to store diapers, wipes, toys, etc. It's our own little "Walker station" for the downstairs.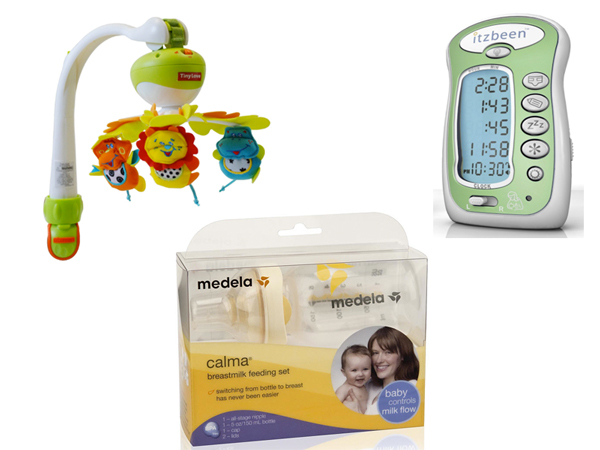 We haven't really gotten into toys yet, but Walker loves to stare at this mobile. My mom bought it for him after noticing that he was really focusing on things. The great part is that it's travel size and will attach to the carseat, playard, crib or stroller. You can also choose not to listen to the music… should you reach your kiddie music limit.
At first I was skeptical that I needed this little device. I had heard about phone apps that serve the same purpose, which is keeping track of feedings, naps, etc. So far, I have used it solely for the feeding timer and I LOVE it. I only have to push one button when I start the feeding and I can glance at it quickly (as opposed to using my phone). The "one button and forget it" aspect saves my mommy brain space for other things without worrying how long Walker is going between meals. It even has a light to check it in the middle of the night… very smart.
I bought this because I read that it was good for bottle-feeding a nursing baby. We tried it within the first week home and Walker took to it like a champ. He has since graduated to using other types of bottles in addition, but I credit this one with making the transition so easy. These Medela Quick Clean Bags are also great for quickly sanitizing pump/bottle parts without running them through the dishwasher.
Some other items worth mentioning that I love or use on a daily basis:
Britax B-Safe and B-Agile – We decided on this carseat/stroller primarily based on size and weight. We've been very happy with both so far… easy to use, folds up well, definitely "agile."
Cloth Diapers - Gerber's pre-fold diapers with the center pads litter our entire house. They're great for all kinds of clean-up and are better than most any burp pad.
Tervis Tumbler - I've professed my love for the Tervis before, but it's even stronger now. I carried one with water at all times during my pregnancy and have continued to do so while nursing. It keeps my water cold longer, and with the lid I have a harder time spilling it all over the place.
Caddy – I couldn't find it online, but I bought a waterproof fabric shower caddy with pockets on the outside and shoulder straps at Target. I realized pretty early on that I had a lot to carry up and down the stairs, along with a little baby. To keep my hands free for Walker, I use the caddy for my Tervis, cell phone, Itzbeen timer, snacks and anything else that needs to go up or down the stairs with me. I like that it's waterproof in case somethings spills in it.
Baby Book – I looked everywhere for a nice-looking, gender-neutral baby book. This one is spiral bound, so it holds more without breaking the spine. It has pockets and places for all the things I'd want to document.
Rockabye CDs – We were gifted the Beatles and Dave Matthews Band versions of these albums, but they have tons of other artists. They just came out with a Michael Jackson version, so that's next on my list. Something both Walker and I can enjoy listening to, because I assure you these will never enter our house.
So that's what we've loved over the past couple of months. Hopefully someone will find it helpful! I'll probably do a little update every few months as Walker grows, but this will not be turning into a baby blog! I actually have a wedding client's work to show off next, so stay tuned…